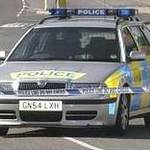 Two armed robbers fled with a "considerable amount" of cash after threatening travel agency staff today.
The men demanded cash at gunpoint at the store in High Street, Hythe, at around 11.40am.
Both raiders, described as black, then fled the shop with the cash, travelling along Theatre Street towards Prospect Road, and were last seen in the area of the supermarket.
Police are not ruling out a connection to a similar robbery earlier this week at the Thomas Cook travel agent's in Sandwich.
They have warned people not to approach the men, but are particularly keen to speak to anyone waiting for a taxi outside the supermarket between 11am and noon, or anyone who visited the travel agents at the time of the attack.
Anyone with information should contact police on 101 quoting ref 14-557.