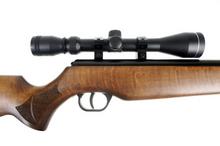 Armed police officers were called to an area of Ashford today after a man was spotted walking around with a rifle.
Scared residents in Singleton awoke to the sight of a man walking in Longacre Road with the gun in the early hours of this morning.
Kent Police confirmed a man has now been arrested.
Officers were already responding to earlier reports of a disturbance and noise in the road when they were called.
It was initially reported as a man with a rifle, but an eagle-eyed neighbour later identified it as an air rifle.
A resident, who wished to remain anonymous, alleged that shots were fired at a bin.
A Kent Police spokesman said: "We received reports of a man with an air rifle in Longacre Road at 3.09am this morning.
"An armed response unit attended the scene and a 44-year-old man was arrested. An air rifle and ammunition were seized."
The man, who was arrested on suspicion of a firearms offence, was remanded in custody.