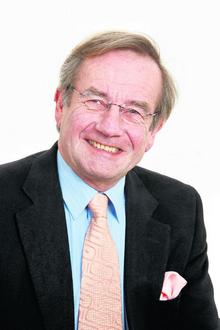 Ashford Borough Council leader Cllr Peter Wood has stepped down from his position at the authority due to ill health.
The ward member for Saxon Shore, who has led the ruling Conservative party since November 2010, took the decision to temporarily step down after undergoing a major operation.
In a letter read out at last night's meeting of the full council, Cllr Wood said: "In view of my current medical condition I feel that I am unable to carry out my duties as leader of the council. I have therefore taken the decision to temporarily stand back as leader until March 31st when I've recovered from my operation."
He added that he was not resigning from his position but deputy leader Cllr Gerry Clarkson would become acting leader until the end of next month.
Cllr Wood said: "I have full confidence in my deputy and the Cabinet to oversee the running of the council in my absence and they will be keeping me informed of key decisions and issues that arise.
"I look forward to returning to lead the council at the beginning of April 2013."
Acting leader Cllr Gerry Clarkson said: "I'm sure the entire council will ensure to send their best wishes to Peter for a full and swift recovery and I'm sure we will all welcome him back as leader of this authority."