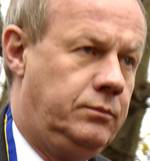 Ashford MP Damian Green has revealed his wife was in hospital after he suffered a storm of abuse on Twitter over his absence from a House of Commons debate.
The Conservative policing minister was criticised by Labour MP Keith Vaz for not appearing in the House of Commons during a motion on
police grants held at around 1.30pm on Wednesday.
Mr Vaz took to Twitter to question: "Where is Damian Green."
What followed was a string of "abuse" from fellow users of the microblogging website, according to the Ashford MP.
In response to the criticisms, Mr Green (pictured above) tweeted: "How modern media
works. Keith Vaz demands to know why I am not in Commons. I get abuse
on Twitter. Reason? My wife in hospital. Happy now?"
Mr Vaz received condemnation earlier this week for "sexist" comments he also made on Twitter, suggesting Cabinet minister Theresa May was "looking a bit thin".
Mr Green later thanked well-wishers on the site and also praised the NHS.