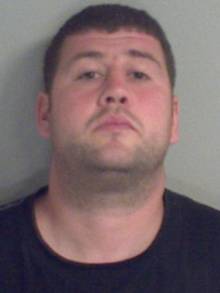 by Paul Hooper
An Ashford sex predator has started a 13-year jail sentence - still shouting he was innocent while being led to the cells.
Pervert Jet Matthews, 30, had been convicted of sexually assaulting a baby on what a judge described as "clear and compelling" evidence.
But after being jailed, Matthews, of Gravelly Field, shouted to family and friends in the public gallery: "I am innocent of this crime!"
A jury at Canterbury Crown Court heard how Matthews had assaulted the baby – although experts were unable to say what had been used during the sick attack.
Judge Adele Williams told him: "Only you know what you did – but I am in no doubt that what you did caused your victim pain, distress and alarm."
Oliver Saxby, prosecuting, had revealed how the attack happened in July 2011 when the baby was discovered with injuries consistent with an attack with an object.
Matthews, who denied the attack, claimed someone else must have caused the injury – and still protested his innocence even after being convicted.
But the judge told him: "When you gave evidence you displayed yourself as being an angry man with an ungovernable temper.
"You sought to blame everyone except yourself. You have a history of
"this was a serious sexual assault upon an innocent and defenceless child..." – judge adele williams
domestic violence and a history of misusing illicit substances and alcohol. This was a serious sexual assault upon an innocent and defenceless child.
"You have shown not a flicker of remorse or insight into your offending."
Matthews was made subject to a sexual offences order and placed on the Sex Offenders' Register for life. He was also disqualified for working with children in the future.
As he was being led away to begin the sentence, Matthews started claiming he was innocent to members of his family - who responded by shouting: "Love you brother. We know you are. We will fight this."
DC Michelle Woolacott, from Kent Police, said: "I'm pleased that this evil man has been brought to justice.
"It was a long and complicated investigation and has been a traumatic time for the witnesses, all of whom have co-operated fully and shown great courage."