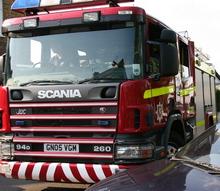 A toddler was lucky to escape serious injury after an electric heater fire started in a bedroom.
Fire engines were called to a maisonette at Tutsham Court, Kennington, after the heater and a rug caught light in the 18-month-old boy's room at 10pm last night.
Crews from Ashford and Chilham went to the property but the child's mother managed to put the fire out by carrying jugs of water from the bathroom before they arrived.
Watch manager Pat Hillman said: "There was a little 18-month-old boy in a cot in the room who suffered smoke inhalation and his mum burnt her foot.
"We gave first aid to both of them until the paramedics arrived around 20 minutes later."
Both the mother and the baby were later taken to the William Harvey Hospital as a precaution.
The fire service will be investigating the cause of the fire but believe the fire was due to a fault in an electric heater.