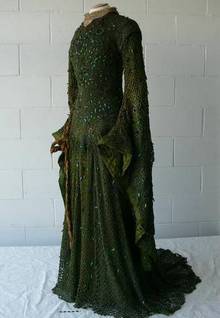 by Tricia Jamieson
The most famous dress worn by Shakespearean actress Dame Ellen Terry was one made from beetle wings.
So it is ironic that beetles have nearly been the downfall of 200 of her costumes.
Staff at Smallhythe Place, Tenterden - once Dame Ellen's home and now a National Trust property - discovered the insects had attacked her dresses that were in storage.
A rescue operation swung into place, involving freezing the outfits to kill the beetles and then gently cleaning them with museum vacuums.
The work is now coming to an end with volunteers finishing off the final dresses.
Susannah Mayor, house steward at Smallhythe Place, said: "We don't know how the carpet beetles got into the clothes store where we have around 200 costumes, some of which are fabulous.
"The dresses are so precious that doing nothing was not an option.
"Getting them professionally cleaned was too expensive, so we took advice from clothes conservationists and textile experts and did it ourselves."
As freezing was the only way of getting rid of the insects, the freezer in the venue's Barn Theatre restaurant was pressed into service and another one was bought and housed with a neighbour.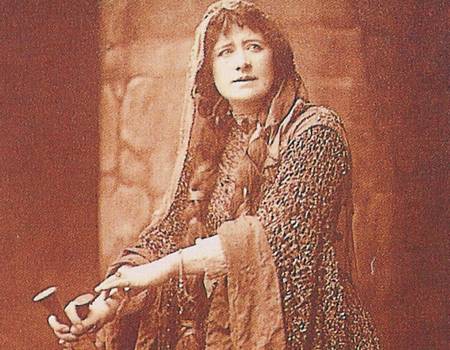 The theatre's freezer temperature of -36 degrees meant the costumes only had to be in there for 72 hours, but as the other freezer only got down to -22, they had to spend two weeks there.
Susannah said: "All the costumes are carefully stored in long boxes with tissue inside to keep their shape.
"We removed some of the tissue before vacuum packing each one and putting them in the freezer – it was quite rewarding when we took them out and saw the dead beetles.
"After freezing, each outfit was left for 48 hours then carefully cleaned with a museum vacuum to make sure all the eggs had gone, and repacked."
Dame Ellen's costumes are not on show at Smallhythe Place, but that might change. "The collection is so significant we are considering opening up the costume store in a small way," said Susannah.
Dame Ellen, who died in 1928, wore the beetle wing dress when she played Lady Macbeth. After her death, her daughter, actress and theatre director Edith Craig, converted the barn at Smallhythe Place into a theatre.
In 1929, she staged a Shakespearean event in her mother's memory, which has continued every year since, apart from breaks for the Second World War, on the nearest Saturday to Dame Ellen's death.
Smallhythe Place is now owned by the National Trust. It reopens on Saturday, March 2, after being closed for the winter.