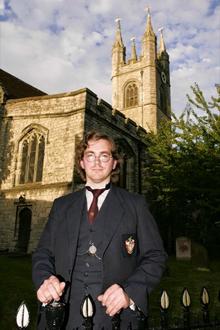 Ashford bellringer Chris Cooper says there is no place for women as bishops in the Church of England.
The Churchyard Passage resident, who campaigned against the re-ordering of Ashford's St Mary's Parish Church, said he was pleased the General Synod had turned down the proposals for women to become bishops last week.
Mr Cooper said the move would not only have been an 'unlawful innovation' but would be 'evil', 'wicked' and flew in the face of Jesus.
He said: "I fear some will not agree, but I really think we dishonour our Lord if we continue to work towards this legislation because it is quite wrong.
"Some will disagree with my use of emotive language, but we must, I feel, show these people that they are not welcome.
"I know it is the fashion to be 'moderate' and 'reasonable', but Jesus did not always behave like that and nor must we. I fear that our traditionalist wings of the Church will not heed my voice and that I will remain a voice in the wilderness because what I have to say, and the way I say it, is not seen as gracious, fashionable or the way to do things."
In the House of Laity, 74 voted against women bishops while 132 voted for them – it was just six votes short of it being passed with a majority of two-thirds.
Last week Kingsnorth and Shadoxhurst parish priest Canon Sheila McLachla said she was devastated by the news. Outgoing Archbishop of Canterbury Rowan Williams also spoke of his deep personal sadness.
It could be another five years before a similar vote can be held.