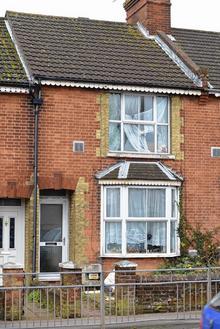 by Tim Collins
A blaze that claimed the lives of four cats and left a dog unconscious is thought to have been caused by a mobile phone charger left plugged in.

Firefighters were unable to save the pets, who were killed by smoke from a blaze at an Ashford house (pictured left) on Christmas Day morning.
Neighbours phoned 999 after hearing the alarm and spotting smoke billowing from the two-storey terraced house in Kingsnorth Road at about 11.40am.
The fire spread to kitchen cupboards and the whole house suffered smoke
damage.

The homeowners were out at the time, but a dog and four cats were in the building.

Around 10 firefighters, from Ashford and Charing stations, worked for half-an-hour to bring the blaze under control.

Firefighters wearing breathing apparatus found the cats had already died from breathing in smoke.

An unconscious light brown Labrador dog was found near the back door.
Crews gave the dog oxygen therapy using an improvised mask made out of a lemonade bottle - before carrying her out of the house to safety, where she regained consciousness.

The dog was taken to a vet by an RSPCA inspector for precautionary checks.

Crew manager Tim Hanley, from Ashford fire station, said: "We arrived within minutes of receiving the 999 call to find the house full of thick, black smoke.
"It only takes three breaths of smoke to knock you unconscious and it's usually the smoke rather than the flames that kill people.

"That's why it's vital to have working smoke alarms, they provide the early warning needed in the event of fire in your home.

"Phone chargers and other electrical appliances can get hot very quickly. Always turn them off when not in use and keep them free of household clutter to avoid overheating when they are switched on."