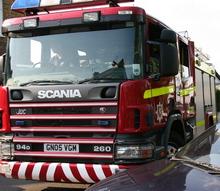 A convenience store in Stanhope suffered substantial smoke damage after a fire on New Year's Day.
Two fire engines from Ashford and Charing were sent to Stanhope Minimarket at Speldhurst Close when the blaze broke out at 10.38pm on Tuesday night.
The fire, which was on the ground floor on the building, was put out by two firefighters wearing breathing apparatus using a hose reel.
Crews later used a positive pressure ventilation fan to clear smoke from the property.
Police were also in the area to control the traffic.
The fire service is investigating the cause of the fire which is believed to have been caused by a fault in the electrical equipment behind the front counter.
No one was injured during the incident.