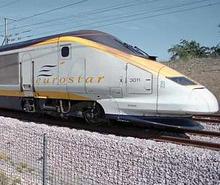 Motorists suffered delays on the M20 this afternoon when a power failure led to the temporary closure of one of the Channel tunnels.
Eurostar and Eurotunnel passengers faced delays because of the technical fault earlier this morning.
The problem was resolved early in the afternoon, but waiting times of around an hour were still being experienced.
A backlog led to the closure of the M20 coastbound exit at J11a, at Folkestone for the Channel Tunnel, at around 3pm.
Traffic was expected to build on the M20 into the afternoon.