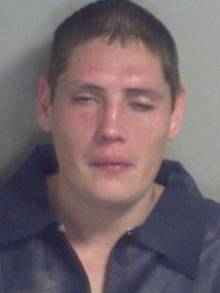 by Alex Claridge
A vicious drug addict who knifed a man in Folkestone has been convicted of attempted murder.
Stephen Boorman, pictured right, repeatedly stabbed Darren McMorran four times in an "unprovoked, frenzied and violent" attack at a flat in Black Bull Road.
Canterbury Crown Court heard the 28-year-old, who had only just been released from prison, used a butcher's knife during the attack.
Mr McMorran ran out into the street after the attack and only survived thanks to the actions of passers-by.
DI Gavin Moss, from Kent Police, said: "This was a horrific attack and the victim was lucky to escape from it with his life.
"Mr McMorran was curled up on the pavement and losing vast amounts of blood. Despite being faced with an alarming incident a number of people rushed to help the victim.
"Not only did they administer life saving first aid but they also contacted the emergency services, giving clear and concise information which allowed both the police and paramedics the best possible chance of saving Mr McMorran's life whilst preserving crucial evidence."
Boorman denied attempted murder, claiming there was an unidentified man at the flat who carried out the attack on the evening of August 16 last year.
But a jury took just over two hours to return a unanimous guilty verdict.
Dominic Connolly, prosecuting, had earlier told them Mr McMorron was in the town when he met Boorman, who was drinking a can beer.
Boorman, of Coolinge Road, complained his partner had kicked him out and that he was an a curfew.
"it is perfectly clear to me that you are very dangerous and are facing a long sentence..." – judge james o'mahony
They then bumped into a third man called Dannie Phillips, who told them he had bought crack cocaine.
They walked to Mr Phillips' flat in Black Bull Road. Mr Phillips and Boorman smoked the crack through a bottle while McMorran drank cider.
Mr Phillips and Boorman began arguing about the crack and Mr McMorran moved away.
He then described feeling three "bangs" on his back and turned around to see Boorman wielding a knife in his right hand. Boorman then stabbed him again in the chest.
Mr Connolly said: "He fell to his knees. There was a great deal of blood coming from his wounds.
"He was in fear for his life and managed to crawl to the front door of the flat. Boorman was still trying to attack him while Phillips was holding him back.
"He staggered outside and on to Black Bull Road, where he managed to get his phone out and speak to emergency services before collapsing on the pavement and losing consciousness."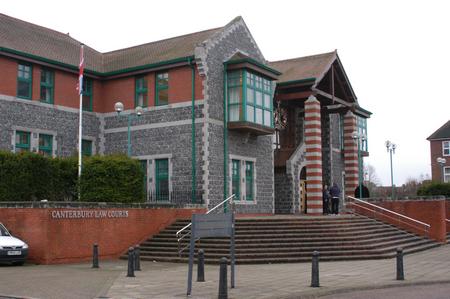 Mr Connolly added: "It was an unprovoked, frenzied and violent attack.
"It is also clear that Stephen Boorman was heavily intoxicated from alcohol and crack cocaine and that this self-induced intoxication contributed to his behaviour on the evening in question."
The stab wound to Mr McMorran's chest was just centimetres from his heart and Mr Connolly told the jury that had it not been for the efforts of passers-by, ambulance staff and surgeons at the Royal London Hospital, he would have died.
He said Boorman's claims to police that there was a fourth man in the flat who carried out the attack was a ruse to deflect blame from himself.
Boorman was remanded in custody and will be sentenced in March.
Judge James O'Mahony told him: "It is perfectly clear to me that you are very dangerous and are facing a long sentence."