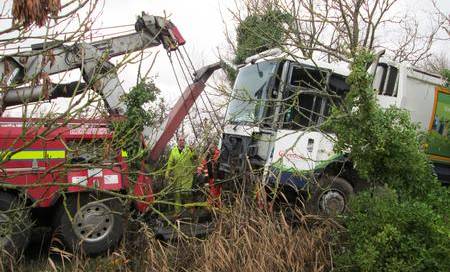 A rural road had to be closed this week after a dustcart overturned, ending up in a ditch - breaking both of the vehicles axles in the process.
The incident occurred in Church Lane, between Snargate and Brenzett Green, at around 2pm on Monday.
Police were called to the scene at 2.50pm to ensure the Veolia vehicle was not blocking the road and Kent Highways attended the location at around 8pm.
Due to the unusual nature of the recovery the road was closed and remains so today.
A spokesman for Veolia Environmental Services said: "We can confirm that the vehicle in question will be removed later today as soon as the ground conditions mean it is safe to do so.
"A full investigation is being carried out into this incident."