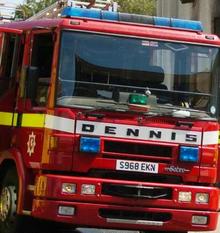 Firefighters were called to a house in Saltwood last night (Saturday), after a blaze began in a kitchen.
Crews from Folkestone and Ashford were called to the property, in Harpswood lane, after a grill caught light in an elderly resident's home.
The fire was fuelled by towels that the occupant had used in an attempt to tackle the flames.
A team of eight crew members from Blue Watch attended the property shortly after 7pm.
They worked for around 45 minutes, using breathing equipment and hoses to bring the fire under control and cleared the smoke-logged house using a ventilation fan.
The female resident, in her 80s, was treated by paramedics at the scene for smoke inhalation, and was taken to the William Harvey Hospital in Ashford as a precaution.