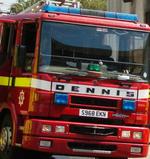 A 79-year-old woman was taken to hospital when a fire broke out at her home last night.
Kent Fire and Rescue Service sent two fire engines to the house in The Haven, Kingsnorth, near Ashford, at 6.44pm after reports of a chip pan fire.
Crews wearing breathing apparatus quickly extinguished the blaze with a hose reel before clearing the property of smoke.
The woman was taken to hospital by ambulance for precautionary checks.
The fire caused a small amount of fire damage to the kitchen, but the whole house suffered heavy smoke damage.
Ashford watch manager Mark Thomas said: "The woman had cooked chips for dinner the previous evening, turning the cooker off at the wall but had unfortunately forgotten to turn the electric ring off.
"When she switched the oven on to warm her evening meal, she didn't realise the heat was on under her chip pan and in no time at all it had caught light.
"She was extremely lucky to have been alerted given that the battery was missing from the smoke alarm in her home, but she did the right thing by getting out of her home and phoning the fire service.
"The single most important life-saving device in your home is a working smoke alarm; they provide the early warning needed.
"Your neighbours, friends and loved-ones may need your help to protect themselves from the outbreak of fire and could benefit from safety advice."
Phone KFRS free from a landline on 0800 9237000 or go to www.3breaths.info for more advice.