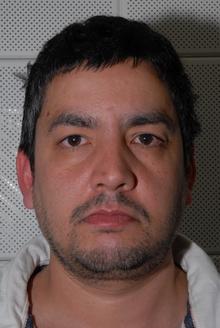 by Keith Hunt
An ex-detective has been jailed for life today - and must serve a minimum of 28 years - for murdering his estranged wife in her Ashford hair salon.
Violent and controlling Ivan Esack, 38, savagely plunged a kitchen knife into tragic Natalie up to 11 times because he was so jealous of her new lover.
As he was sentenced family and friends of Natalie cheered and clapped. He smirked and nodded.
Esack had admitted manslaughter, but denied murder - claiming his responsibility was diminished because he suffered from a narcissistic personality disorder.
But on Friday a jury at Maidstone Crown Court convicted Esack (pictured left) of murdering 33-year-old Natalie.
Passing sentence today, Judge Charles Byers told Esack: "On April 30 last year you cut down and killed a young woman who was in her prime.
"not only did you take her precious life, in doing so you devastated lives of so many others around you" – judge charles byers
"She was clearly much loved by many, well liked by many more and who had a huge amount to offer this world.
"Not only did you take her precious life, in doing so you devastated lives of so many others around you.
"You had previously made her life a misery, subjecting her to extreme physical and verbal abuse. You sent her vile text messages.
"You threatened her and others in telephone calls and tried to strangle her on one occasion when you had previously threatened her.
"Yet, she never offered you any malice, not of any sort. Even when you were in rehabilitation, those who heard about it must have been moved, because when you started crying her first thought was to comfort you."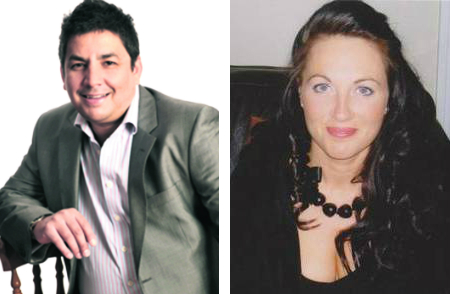 Judge Byers said Esack had stabbed Natalie with such frenzied force that the blade penetrated her shoulder.
"And you did that in front of a 17-year-old girl who was her friend and colleague," he continued. "You then walked calmly back to your car and waited for arrest.
"You have shown no remorse. Even when interviewed that day you showed a degree of arrogance.
"I have taken into account your personality disorder, but it only goes to underline that you are, in my view, a dangerous man."
He praised Chelsea Ford, Natalie's teenage colleague who witnessed the horrific attack.
---
Related stories
---
"I have been particularly impressed and moved by the way Chelsea Ford conducted herself when she was confronted by the horrific ordeal she underwent," he said.
"She didn't panic. Her only thought was for Natalie. In remaining calm, when many would not have done so, she did everything she possibly could to help her friend when she herself felt in danger and terrified.
"She gave evidence in a clear unemotional way which I am sure was helpful to the jury.
"She conducted herself that day in a mature and sensible fashion in summoning help and she can be justifiably proud of herself, as can her family be proud of her.
"I have read an extremely moving statement from her mother.
"I know she has been finding it difficult to adjust, to say the least, and I know it will help a little if I say that in the fullness of time with the help of her family she will be able to put these sad events behind her and live the life she deserves."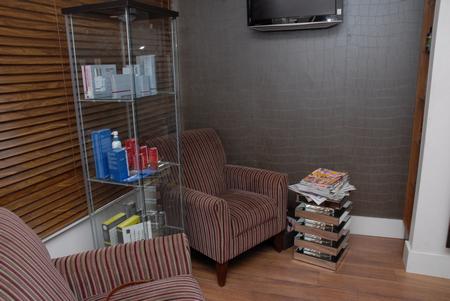 The judge also commended the police for the way the investigation was conducted.
"It could have become emotive and difficult," he said. "Officers who conducted interviews did so with restraint and in total fairness. They did so without emotion.
"I believe this murder was investigated in the highest traditions of policing. I commend the police and everyone who took part in it."
Oliver Saxby, defending, said there was only one conceivable mitigating factor and that was the psychiatric evidence.
He said: "The jury has rejected the defence of diminished responsibility but he has a personality disorder. It is for the court to determine to what extent his culpability is lowered."
Aggravating features included that the murder was committed in front of Chelsea Ford and the "intensity and extent" of the attack.
"He did not remain at the scene and there was no remorse," said Mr Saxby. "In our submission his personality disorder has some bearing on those aggravating features.
"He has inherent in him a lack of empathy."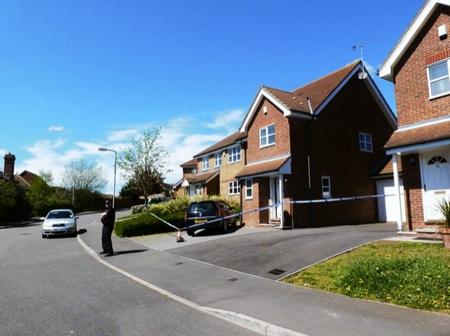 Judge Byers replied: "The other way of looking at it is his personality disorder makes him more dangerous, and that concerns me greatly.
"I think there is another aggravating feature, and that is it happened in the salon, a place where the public would ordinarily have access."
Earlier in the hearing the jury heard Esack, a former Kent Police detective turned football agent, bought an eight-inch kitchen knife at Sainsbury's moments before strolling to Esack Hair and Beauty, in the High Street.
Esack was so jealous of Natalie's new relationship with Justin Khadaroo, 34, he had plotted to kill himself in front of her.
But when he arrived at the salon he repeatedly thrust the blade into his wife in front of horrified teenage hairdresser Chelsea Ford.
The furious 20-second attack was so violent it left the blade bent and even snapped off the tip.

Miss Ford, 17, later told police the ex-detective then calmly walked out of the salon declaring: "She deserved it, the bitch."
Esack had repeatedly threatened to kill Natalie - saying her only options were "death or death".
He claimed he lost control in the salon on Monday, April 30 last year when Natalie told him to get out.
Esack went home to Rosewood Drive, Repton Park, Ashford, and was arrested there soon afterwards.
Moments later, calm Esack asked officers: "Is she dead?"
The prosecution said Esack was extremely co-operative and smelled of alcohol, having drunk several cans of Special Brew and half a bottle of whisky.
The ex-policeman later said: "I admit it all. I take it she is dead. She had it coming to her. I don't regret a thing."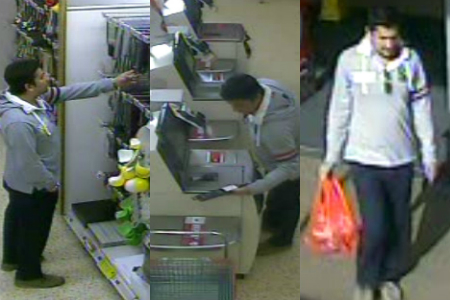 The couple met at Living World gym, where Natalie was working as a hairdresser and Esack went to get his hair cut.
They went out for about 10 years before getting married in 2006 and set up the hairdressing business two years later.
Soon their marriage deteriorated and Natalie started dating Mr Khadaroo, whom she met in 2007, in October 2011 when she moved in with her father.
prosecutor Philip Bennetts said the husband was aware of her new relationship and she would not return to him.
"He threatened to kill her and to kill the man she was in a new relationship with," said the prosecutor. "On April 30, he decided he was going to kill her."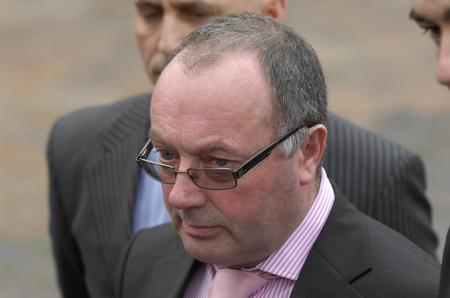 Describing Natalie as petite and 5ft 1in while Esack as stocky,
The prosecutor said Esack had repeatedly assaulted and abused Natalie during their relationship and threatened to kill her.
Mr Khadaroo, who told the court he had urged Natalie to get a restraining order, said to Esack in a phone conversation he was the most "disgusting, vile human being" he had ever met.
Miss Ford said she heard him tell Natalie in the salon she was "a dead woman walking", adding: "Tick tock, tick tock."
A psychiatrist agreed Esack was suffering from a narcissistic disorder, but the prosecution did not accept it was an abnormality to function - because it did not affect the nature of his rationality of his conduct and self-control.
Hard-working Natalie was described by friends as a caring, selfless and popular individual who always put others before herself.
During the trial, it was revealed Esack had been having a relationship with a man called Louis.
He confessed to having an affair with a man while he and Natalie were on holiday in Cancun, Mexico, in December 2011.
Speaking after the sentence, Natalie's father Jim Wilkinson said the verdict was fair.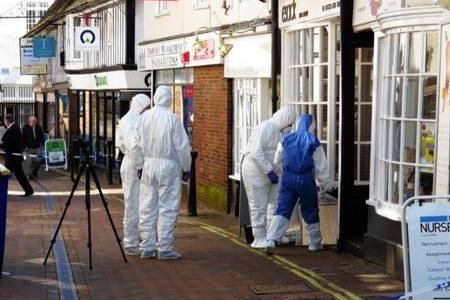 He added: "I'm really pleased with that, knowing he's got to serve 28 years is really nice.
"The thought of him coming out feet first is even better still.
"I think it's nice he's locked away and he can't prey on anybody else. People are safe from him."
Det Chief Insp Paul Fotheringham said he was "very satisfied" with the sentence.
He said Esack would be 66 before he would be eligible for parole, but he thought he would spend his life in prison.
He praised Chelsea Ford as a "remarkable woman", who was clearly devastated by what had happened.
Natalie's new boyfriend Justin Khadaroo on the sentencing
Update Required
To play the media you will need to either update your browser to a recent version or update your
Flash plugin
.
Natalie's new boyfriend (pictured above) Justin Khadaroo said: "I think we couldn't have asked for a better sentence to be honest.
"From the very first day it happened - on the 30th April - we've been waiting for this particular sentence and it couldn't have gone any better.
"From that point of view I'm elated - the whole family are."