A former hunt master accused of shooting his ex-lover after she rebuffed him has denied he ever tried to rekindle the romance after he left her.
Balding Brian Fraser said he had no regrets about the five-year relationship with Louise Leggett ending.
"I never considered I might have made a mistake," he told a jury. "I never made any overtures to her about giving it another go."
Fraser, 63, of Criol Lands Farm, Shadoxhurst, Ashford, was starting his evidence at Maidstone Crown Court, where he denies attempted murder.
The prosecution alleges the farming contractor lurked in bushes at night and blasted Mrs Leggatt in the thigh and abdomen.
The 54-year-old show jumper believed her former husband Philip Gorringe, 62, had previously set fire to her home and at first suspected him of the attack.
But although he was initially arrested, police eventually charged Fraser.
The former joint master of Ashford Valley Hunt at first claimed he neither had a gun nor had gone out on the evening of the shooting, March 15 last year.
But a single barrel shotgun was found at his home and CCTV there revealed he had driven out and returned around the time Mrs Leggatt was wounded.
The mother-of-two was renting premises at Bramleys, Apple Pie Farm in Benenden, after her house Pippins next door was burnt down two months before on January 18.
She returned home from her job as a receptionist at a veterinary surgery in Hawkhurst on March 15 and at about 9.30pm went outside to see to her horses.
She heard a gunshot and screamed as she realised she had been hit. She managed to crawl back into home and call 999.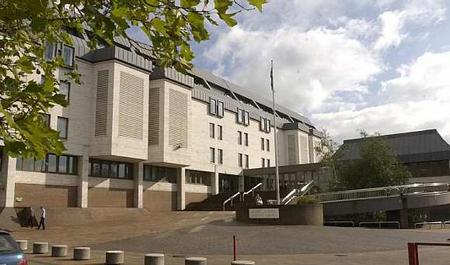 She was taken to Pembury Hospital, where she was treated for wounds to her right upper thigh and lower abdomen.
Mrs Leggatt told police she suspected Mr Gorringe, from whom she had a bitter split.
Fraser said he had been married to Nannette for 26 years and lived at Criol Lands Farm all his life, apart from living with Mrs Leggatt at Pippins from 2006 to 2011.
He met Mrs Leggatt through the hunt which he had been involved in for 50 years.
He said of the split: "It was my decision to move away. I felt we had grown apart. We still had the same interest as far as the equestrian side was concerned, but we drifted apart."
Fraser agreed he spent long periods away from Mrs Leggatt running his 53-acre farm. "I accept I neglected the relationship with Mrs Leggatt," he said.
"I didn't help financially with the household. I paid a little bit towards food and that sort of thing. I think she knew I was not a wealthy sort of chap.
Fraser denied he had ever lost his temper or been "physical" with Mrs Leggatt, as she had claimed. "No, not at all," he said. "I never struck her".
"i thought we were still friends. we didn't fall out. i was always concerned for her well-being" – brian fraser
He held her arms once, he said, when she was in a bad mood and "having a bit of a go".
He described their relationship as "quite amicable" after they parted and said he offered help with chores like splitting logs.
"I thought we were still friends," he continued. "We didn't fall out. I was always concerned for her wellbeing."
Fraser said he never sent Mrs Leggatt flowers during their relationship but did so on Valentine's Day last year after the fire.
"I thought she would be emotional and upset, as anyone would be," he said. "I bought her flowers because she still seemed down and I thought it might cheer her up a bit."
Asked by his lawyer Ian Henderson if he accepted it had a connotation of romance, he replied: "Yes, but I am not that kind of chap. I knew it was Valentine's Day but it was not for that purpose. If it had been the 15th or 16th I would have done just the same."
Earlier in the case, Mrs Leggatt's ex-husband Philip Gorringe (pictured below) told the court he was interviewed several times about the shooting. "I was locked in a cell for three days," he told the jury.
Mr Gorringe said he believed he was at home all day on March 15 when Mrs Leggatt was shot. He agreed he did not see anybody that day who could confirm where he was at 9.30pm that evening.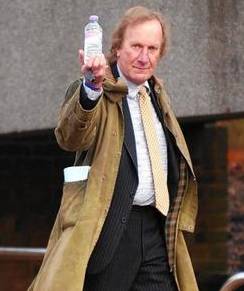 Asked about his interest in firearms by Ian Henderson, defending, he said he had shotguns but did not have a certificate. The guns were kept by a friend.
"I haven't shot since 2005," he continued. "It is not correct my certificate was withdrawn because of an incident with Louise."
He agreed that when he was arrested on March 16 police found 488 cartridges. "I told them they were there," he said. "Some were spent shotgun cartridges. I have already explained that to the police.
"I said I found the cartridges in a wood while walking my dogs. They have been checked with forensics and have nothing to do with the shooting."
Asked by Mr Henderson if he retained an interest in weapons, he replied: "No, I haven't shot since 2005. I would not have had access to a shotgun on March 15."
Mr Gorringe said he and Mrs Leggatt had property in Devon when they were married, which they visited regularly.
Asked about him demanding about £750,000 from Mrs Leggatt, he said he wanted his shares back and denied he was bullying her.
He denied he had ever referred to his ex-wife as "Legover Leggatt", adding: "I was aware of that phrase."
Mr Gorringe said he understood Mrs Leggatt's first marriage ended because of adultery.
The trial continues.