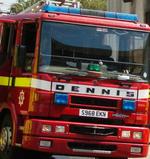 by James Scott
A teenager has been rescued by firefighters after getting stuck in a lift early today - after his friends destroyed the doors trying to get him out.
The 18-year-old man became trapped in the lift on the first floor of South Ashford flats at 2.15am.
A fire crew was sent to four-storey Heron House, in Baileys Field, which is owned by Ashford Borough Council.
Firefighters were able to free the man, who had been stuck for around 20 minutes.
Watch manager Clive Douglas said: "He was a bit distressed so we went and got him out.
"His friends had tried to get him out but they had destroyed the doors in the process."
Mr Douglas said people who become stuck in a lift should raise the alarm or call 999 and then wait for the emergency services to arrive.
"It's best just to wait in the lift and press the button alarm so we can get there and assist rather than destroying the lift doors," he added.