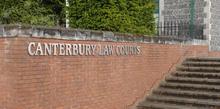 by Dan Bloom
A quiet Christmas dinner awaits Wayne and Shamen Williams this year - in the prison canteen.
The father and son have been jailed together for spontaneously attacking a man in the street.
Wayne, 41, shouted "What are you looking at nonce?" to victim Aaron Otterwell in Dover Road, Folkestone - prompting an aggresive reply.
So 20-year-old Shamen, who had only been out of prison for a month, leapt to his dad's aid by hitting the victim with an aluminium bar.
Wayne grabbed the victim in a headlock, said he was going to kill him, whipped out a flick knife and slashed him across the face.
The attack on August 6 left the victim with two to three cuts, including above his right eye, Canterbury Crown Court heard.
But Wayne Williams had meant him far more serious harm, said Judge
"this was a knife crime and there needs to be a deterrent sentence in a knife crime…" – judge michael o'sullivan
Michael O'Sullivan.
Despite Wayne committing few previous crimes, the judge said: "This was a knife crime and there needs to be a deterrent sentence in a knife crime."
Meanwhile, Shamen had only been released on licence in July from a three-and-a-half year jail sentence.
The court heard he had been jailed over an attempted robbery that took place in October 2010 - just days after his 18th birthday.
The judge told him: "You have an appalling record for violence.
"You may have wished to support your father in some way."
However, Williams junior was given a lesser sentence as the court ruled he could not know his father would use a knife.
Shamen, of Queen Street, Folkestone, pleaded guilty to affray and was
jailed for 15 months.
Wayne, of Dover Road, Folkestone, pleaded guilty to wounding with intent and was jailed for five years and eight months.