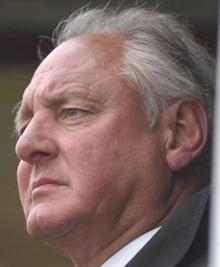 By Kevin Redsull
Folkestone manager Neil Cugley believes his side are slowly rediscovering the "hard to beat" tag which was their hallmark early in the season.
Last Saturday's 1-0 home win over Tooting & Mitcham extended Invicta's unbeaten run to three matches, having gone seven league games without a win and Cugley (pictured) said: "I know we are a bit limited but we do make it difficult for teams to play against us."
The sort of gritty resilience Folkestone showed at the weekend was typical of the performances that had helped carry them to the top of the Ryman League, Division 1 South in early October before they lost form, with experienced players leaving Cheriton Road because of the club's financial problems but Cugley seems to have steadied the ship again.
He added: "After all the turmoil we've been through recently, we seem to have made ourselves hard to beat again."
Folkestone are without a match on Saturday, while Tuesday's game at Leatherhead has been put back to January 15.
Cugley said: "That's why it was good that we won on Saturday, otherwise we'd have gone two weeks with that hanging over your shoulder."