A Folkestone mother has spoken from beyond the grave... to accuse her lover of being a bullying control freak.
Elaine Taylor told a jury she had been punched, kicked, bitten and had teeth knocked out by her boyfriend - even though she is dead.
The 60-year-old divorcee made the allegations against Gary Tomlinson in May 2011 - just six weeks before she passed away.
But a video of her interview with police was played to jurors at Canterbury Crown Court who were told her death had nothing to do with the assault allegations.
Tomlinson, 46, of Elventon Close, Cheriton, has pleaded not guilty to three charges of assault in April and May 2011.
Mrs Taylor was dressed in a pink top and blue jeans for her interview with police officers at Folkestone's vulnerable victim suite.
Clutching a diary in which she had written her assault allegations, and drinking a cup of coffee, she told a detective how she had been "wooed" by the charming Tomlinson in 2009.
She said: "I tried to help him because he had nowhere to live and he kind of won me over. He kind of boxed me in."
"my life has been turned upside down by a control freak..." – what elaine taylor claimed in video evidence
Mrs Taylor said Tomlinson moved into her flat in Lawrence Court, in Dover Road, and two lived together for 18 months before the alleged attacks and shared an "on-off" relationship.
"He kind of wooed me," she said. "He can be charming. I suppose I was quite gullible. But sometimes I didn't want him there because he was so horrible. Then he would come around all charming. He buys me flowers or chocolates."
As the video was being played, Tomlinson broke down and asked to leave the dock for a few minutes to compose himself.
Mrs Taylor said their relationship quickly deteriorated and she was subjected to frequent attacks where she was punched and kicked in the ribs and had a tooth crown knocked out.
She claimed Tomlinson blamed his upbringing for his mood swings, adding: "There were lots of times I didn't want him there because of the violence, but he can be quite foxy and cunning. My life has been turned upside down by a control freak."
She alleged that if she ever went out "he wanted to know where had I been, what did I buy, if I took money out of the bank... things like that".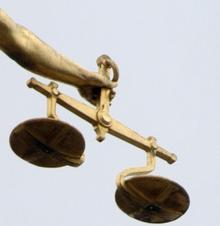 On one occasion, she claimed: "It just kicked off again. He takes too much amphetamine and he was up all night walking the streets. He gets bad tempered and says he suffers from his nerves and depression.
"I wanted to go and see my son Matthew because it was his birthday and it was important.
"He just punched me in my face and I lost my crown and punched me in my side and I started to cry.
"I hadn't said a word to him because I don't want to talk to him when he is like that. I couldn't go anywhere because of my lost tooth and it hurt as well.
"He then cleared off and when he came back it was like: 'Hello, baby', " she claimed.
Mrs Taylor also claimed that a few days before the police interview she had been attacked by Tomlinson when her hair was pulled out and she was punched.
She said: "I had 14 bruises. He stamped on my leg, I thought it was broken. There also have bite marks on my arm. I think he is mentally unbalanced," she alleged.
Alexandra Kettle-Williams, prosecuting, had earlier told the jury: "Mrs Taylor, who the Crown say is the victim, is regretfully deceased but the prosecution say this has nothing to do with Mr Tomlinson."
The trial continues.