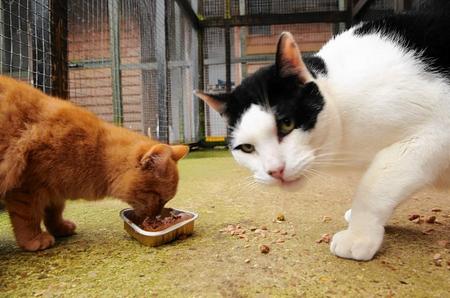 by Lauren Fruen
Britain's tallest cat could soon be rehomed with one of Britain's strongest men.
Terry Hollands, who was crowned Britain's strongest man in 2007, spotted Faversham's massive moggy Judas after the cat hit headlines for his height last year.
Judas, who stands at a huge 19 inches - 10 inches taller than the average domestic cat - was struggling to find a home because of his size.
But it could soon be a match made in heaven for Judas if 30-stone Terry gets his way.
Judas had been left at Happy Endings rescue, in Ospringe, 10 months ago and the cattery feared the huge feline would never find a home because of his size.
But after we exclusively featured his plight Judas hit national headlines and was spotted by the Dartford-born strong man.
Terry, along with more than 100 others, offered to rehome the tall tabby.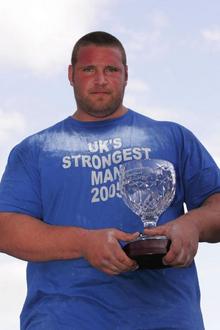 The 6ft 6in strong man (pictured left) took to Twitter to tell his 11,000 followers he wanted Judas - with many of them replying it would be the perfect match... a big cat for a big man.
Cattery manager Heather Jordan said: "We could end up with our biggest cat going to Britain's strongest man. Judas is very special. We have had more than 100 phone calls from people who want to rehome him."
The black and white feline tips the scales at a staggering 20 pounds, which is more than double the average weight.
And Heather, who has worked at the cattery for 11 years, is thrilled he has finally found a home.
Heather added: "We have had calls from everywhere. There has been a massive response to Judas. He is certainly not a lap cat – unless you have a very large lap! It is fantastic news. Every cat seems to get a home and Judas doesn't.
"But the article seems to have reached out to the right people and it is really good for him.
"I do not think he would have got a home if it hadn't been for that. It will be awful to see him go but he is a real gentle giant and we all love him."
The world's tallest cat measured 19 inches from paw to shoulder.
Trouble, who hailed from Sacramento, California, died earlier this year, but was recognised by the 2013 edition of the Guinness Book of World Records as the tallest cat in the world.
He weighed 20 pounds - the same as Judas.