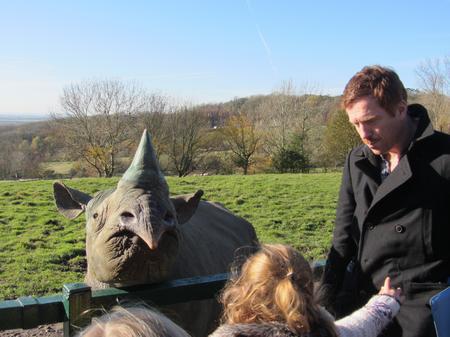 Homeland actor Damian Lewis left behind the hit US TV smash hit to go wild in Kent.
The international star of the Channel 4 TV show made a special visit to Port Lymne Wild Animal Park near Hythe with his family recently.
During the VIP visit Damian and family enjoyed behind the scenes experiences at Port Lympne, met the Amur tiger family and took a VIP safari to see black rhino, giraffe, wildebeest and ostrich.

Damian said: "This was a welcome break from my hectic filming schedule and it was great to just relax and spend time with my family.
"All of us really enjoyed getting close to the animals and seeing the conservation work of The Aspinall Foundation in action."

The Aspinall Foundation is a world leading conservation charity, headed by passionate conservationist, Damian Aspinall.
The Foundation hit the headlines recently when it announced plans to send captive-born animals back to the wild.
The Kent-based charity has already sent three black rhino to Tanzania and plans are under way to send an entire family group of western lowland gorillas to Africa and a group of eight captive born langurs to the charity's conservation project in Java.

For further information regarding the work of The Aspinall Foundation and Port Lympne Wild Animal Park please visit www.aspinallfoundation.org