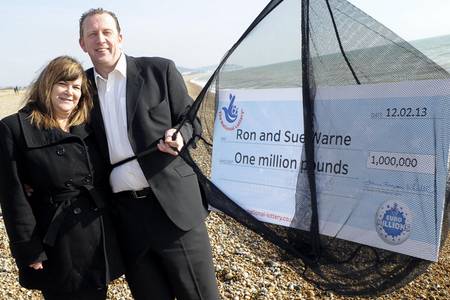 by Sam Lennon
An angler is still reeling over his £1million lottery win - after following in his father's lucky footsteps.
Ron Warne, from Hythe, returned from a morning's search for bait when he checked his numbers to find he has won in the EuroMillions Millionaire Raffle.
Incredibly, it is the second big win in Mr Warne's family - in 1992 his late father Ron Sr gained £250,000 on the pools.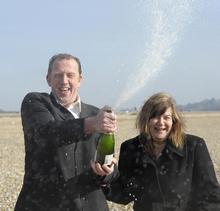 The 46-year-old said: "It hasn't sunk in yet. I haven't yet decided what to do with the money except pay off the mortgage and all other debts."
It was revealed today that Mr Warne had won on last Tuesday's draw and found he had won by checking on his TV the next morning, after returning from Hythe beach.
As soon as he saw the number on the screen he shouted: "I've won a million pounds", startling his wife Sue and relatives who were staying with the couple.
Mr Warne works for a paper manufacturer in Ashford and Sue (pictured above right) is a care worker in Hythe.
They have not decided on whether to quit their jobs, but say they will at least cut down on their hours.
The family will continue to push their son Alex, 13, to do well in his studies and fulfill his career ambitions to become a police dog handler.