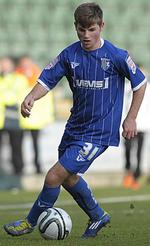 by Steve Tervet
Gillingham striker Ashley Miller has made an instant impact at Hythe Town after arriving on a month's loan from Priestfield.
The 18-year-old (pictured playing for Gills at Plymouth) made his Town debut at Sittingbourne last weekend and scored twice in Tuesday's 3-1 win against Corinthian Casuals.
Hythe manager Scott Porter last week promised to shake up his under-performing squad and he believes the arrival of Miller at Reachfields is hugely significant.
He said: "Ashley is a massive talent and I'm grateful to Gillingham for letting us have him for a month.
"He brings so much pace and quality and his goals showed that.
"I worked hard to get players in. I pursued Ashley's situation with (Gills development manager) Mark Patterson and I got the go-ahead on Wednesday.
"He's got his feet on the ground, he's not big-time and he's settled in well. It's pleasing when you bring a player in and he scores two goals."
Porter has also signed left-back Darren Winfield, brother of Hythe midfielder Lee Winfield.
He said: "Darren's a player I've been after for four years and he's decided to step up to the plate. I've been looking for a left-back and he's settled in well."
Do you expect Miller to be a success at Hythe? Have your say below.