by Keith Hunt
A jury has today retired to consider a verdict in the trial of a hunt master accused of trying to kill his ex-lover by shooting her as she tended her horses.
Contract farmer Brian Fraser is alleged to have lurked in bushes at night and blasted Louise Leggatt in the thigh and abdomen.
The 54-year-old showjumper believed her former husband Philip Gorringe, 62, had previously set fire to her home and at first suspected him of the attack.
He was arrested and later released and Fraser was then charged with attempted murder.
Maidstone Crown Court heard the 63-year-old joint master of Ashford Valley Hunt at first claimed he neither had a gun nor had gone out on the evening of the shooting.
"there were no witnesses to the shooting... she saw nothing and nobody else saw anything..." – ian acheson, prosecuting
But a single barrelled shotgun was found at his home in Shadoxhurst, Ashford, and CCTV there revealed he had driven out and returned around the time Mrs Leggatt was wounded.
The mother-of-two was renting a house at Apple Pie Farm in Benenden after her house, Pippins, next door was burnt down two months before on January 18.
She returned home from her job as a receptionist at a veterinary surgery in Hawkhurst on March 15 last year and at about 9.30pm went outside to see to her horses.
Mrs Leggatt heard a gunshot and screamed as she realised she had been shot. She managed to crawl back into the house and call 999.
Armed police despatched to the house made sure it was safe for paramedics to enter before Mrs Leggatt could be taken to Pembury Hospital, where she was treated for injuries to her right upper thigh and lower abdomen.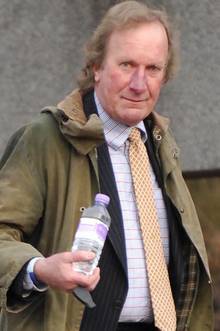 There was "widespread" shot in her abdomen and bowel, but she made a good recovery and was discharged on March 27.
"There were no witnesses to the shooting," said Ian Acheson, prosecuting. "She saw nothing and nobody else saw anything."
Mrs Leggatt told police she suspected Mr Gorringe, pictured right, from whom she had a bitter split.
Fraser denied shooting Mrs Leggatt or burning down her house. He claimed he lied about not going out the evening she was shot and not having a shotgun because he was "in a state of shock and panic".
He told the jury he had gone out to collect a debt.
He said of the lies: "It was just sheer panic, that's all. I do apologise. I know I should have come clean earlier, but it was sheer panic."
He was "gobsmacked" about the fire, he said, and shocked about the shooting.
Fraser, of Criol Farmhouse, Criol Lane, Shadoxhurst, Ashford, denies attempted murder. He admits possessing a shotgun without a licence.