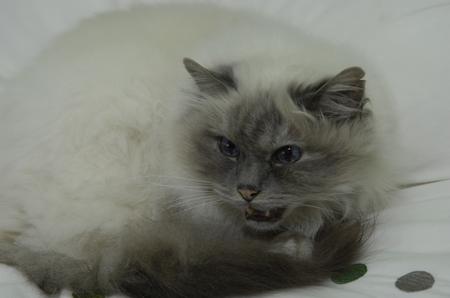 Mortimer, who alerted his owners of to a burgler in the house
by Paul Hooper
Mortimer the Birman moggie has been hailed a hero... after thwarting a cat burglar.
Serial thief Jack Jones, of William Street, Herne Bay, had broken into a house looking for money.
But when ex-policeman and soldier Alan Warren spotted Mortimer's hair standing up, he knew something was wrong.
The 63-year-old retired Port of Dover police inspector went into the kitchen – and was confronted by Jones.
It was then the fur began to fly as Mr Warren delivered a sharp right hook to the stunned raider and bloodied his nose.
The brave cat owner then pushed Jones into the street and called police.
Jones, 37, who admitted burglary, possessing class B drugs, interfering with a car and having a bladed article, was jailed for 21 months at Canterbury Crown Court.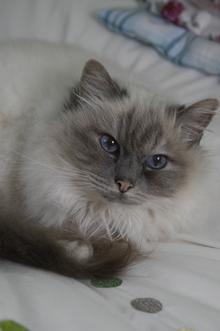 Mr Warren and wife Gillian – who sat in the public gallery – watched as the cocky burglary sneered: "Twenty-one months... that'll do me," before smiling as he was led away.
Angry Mr Warren said: "I was expecting him to get at least three years. It was disappointing he was not sent away for longer."
After the court hearing, he told of the moment he confronted Jones in the early evening in his kitchen.
Drug addict Jones – who had got in through the back door – didn't move and told Mr Warren: "It's all right!"
Mr Warren added: "I am an ex-soldier and ex-policemen so I knew what to do. He wasn't making any effort to leave. I didn't know if he was armed or not so I did what came naturally.
"My training told me that I had to act first... and I did give him a good smack."
His wife Gillian added: "And had I gone into the kitchen first he would have got one from me too!"
Mr Warren added: "Some people might thing is was a courageous thing to have done, but I knew that I had to get him out of my house. I heard later that he carries a blade.
"Normally I would have put him on the ground and held him but he is in his 30s and there was a danger I might have lost my strength. I was also worried that he might have been armed or had a mate waiting outside.
"So I got him out, locked the door and called the police. I knew there was blood in the house and his hat was on the floor, so I knew the police would get his DNA."
Jim Harvey, prosecuting, told how the couple at first thought a fox or another cat was inside their home because of their pet's reaction last September.
"It was only when he went into the kitchen that he realised there was a stranger standing there who then showed no intention of leaving."
Jones was arrested two days later and admitted the break-in, which was committed in breach of a suspended jail sentence.