More plans have been unveiled for a multi-million pound children's education and activity centre in Ashford.
Kingswood, the company behind Gros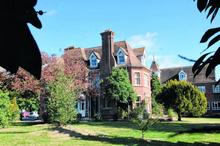 venor Hall, the old police training centre nestled behind Brybook Barn, has submitted plans for a water sports pool, quad bike track and an artificial cave to Ashford council for approval.
Director of Kingswood Grosvenor Hall Dean Saunders said the site is set to open in March with jobs still available.
He said: "The centre has been subject to huge interest from school groups, with most weeks between March and July already fully booked. We do however still have some availability on the weekends and in the autumn term.
"Currently subject to planning permission, we expect the quad biking tracks and the cave to be operational in March. However, the water sports pool will be opened at the beginning of 2011.
"To date, we have recruited around 50 per cent of the total number of staff required for Kingswood Grosvenor Hall, and the majority of these are from the Ashford area. We are now recruiting for our instructor teams,."
The 50-acre site was originally a police training centre for 30 years until its closure in 2006. It boasts 375 bedrooms sleeping between two and 12 pupils, 18 classrooms for IT and language learning, a media centre and sports facilities.
Also inside the buildings will be a laser zone and an indoor swimming pool used for scuba diving.