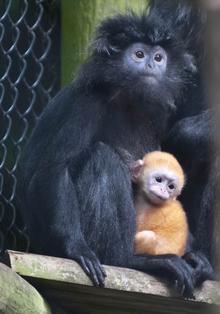 A group of five langurs and a female gibbon are on their way to their native Java – thanks to your fundraising efforts.
The Back to the Wild appeal, run by the Aspinall Foundation and supported by the KM Group, reached its £10,000 target after generous donations from readers following its launch in June.
The Aspinall Foundation's Java Primate Project is preparing to welcome the primates who began their journey today from the Howletts and Port Lympne animal parks.
The primates are the first ever captive-born simians to be released into the wild in order to boost indigenous populations, decimated by deforestation and the illegal pet trade.
Head primate keeper Simon Jeffrey said: "This project has been eight years in the making and has included everything from surveys of the surrounding jungles, to ensure that they can sustain the group, to enclosure design.
"It's been amazing working with the dedicated team out here and I can happily say that everything is in place for the primates."
Mr Jeffrey has been a key advisor and integral part of the conservation charity's latest project, along with Made Wedana, a world-leading primate expert.
Accompanying the group on their 72-hour trip to their new home will be keepers Jamie Robertson and Matt Ford, who will help settle them into their new environment.
Matt said: "It's a big move for the eight primates and will take around 72 hours from loading up in Kent, clearing customs, flying across three continents and travelling over bumpy tracks in Java to the finish line at The Aspinall Foundation's Java Primate Project."