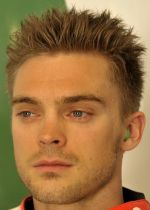 Leon Camier heads to Monza in a positive frame of mind for this weekend's fourth round of the World Superbike Championship.
The Crescent FIXI Suzuki rider, from Ashford, is confident that his knowledge of the legendary Italian circuit will enable him to push his GSX-R1000 on toward a decent finish.
"Monza is going to be a tough one for sure," said Camier, who stands 17th in the championship standings after the opening three rounds.
"The track is all about speed but you also have to understand the corners as well. It's a place where slipstreaming is important and it is possible to be fourth going into Ascari and still win the race.
"For that you need to be in front going into the Parabolica because the finish line is much nearer to the last corner than it used to be.
"Last year I was faster than my team-mate in the second race but a crash ruined everything.
"I am looking forward to three days of dry weather so we can get all our work done at the beginning. If we do that, I feel positive we can come away with good results."
Camier and his Crescent FIXI Suzuki team-mate John Hopkins will take to the track for the first practice session tomorrow (Friday) morning as they begin their preparations for Sunday's two races.