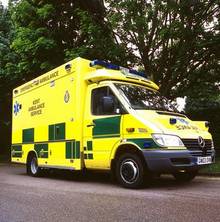 A man was hospitalised after a three vehicle pile-up on Christmas Eve.
Two cars and a van collided, leaving one car overturned and a person trapped inside.
The accident took place on the A251 Faversham Road at 8.50am on Monday, December 24.
Police, ambulance, fire crews and the Kent air ambulance were all called to the scene.
A man needed to be rescued from one of the vehicles after it overturned during the crash.
The 38-year-old was taken to the William Harvey Hospital by ambulance, assisted by air ambulance crew members.
Part of the road was closed while all three vehicles were recovered. It was re-opened at 12.30pm that day.