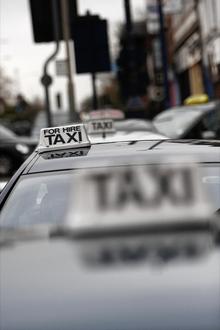 A man who was knocked down by a taxi and dragged under the vehicle is still fighting for his life in a London hospital.
The 26-year-old man, from Maidstone, was in the middle of Station Road, Ashford, near the AMF Bowling Centre, when he was hit by a taxi at about 4.50am on Saturday, December 22.
The man was taken to hospital with life-threatening injuries and is now said to be in a stable, but critical condition.
Kent Police said CCTV images showed the man - slim with dark brown cropped hair and a beard - was unsteady as he tried to slow cars and get inside.
Police crash investigators are appealing for two motorists, who were in front of the taxi and were approached by the man, to come forward.
Their cars - both travelling towards Ashford international station - were a people carrier, thought to be a Ford Galaxy and a Peugeot 406 estate.
Kent Police are appealing for the two drivers, or anyone else who might have seen the collision, to phone Claire Russell Thomas on 01622 798 538 or Scott Lynch on 07980 683 875.