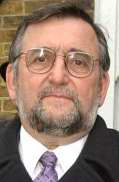 An MP has called for one of Folkestone's High Speed train stops to be dropped from the timetable – to improve the service to Dover.
Folkestone is the only big town with two stops on the route, at Central and West, and MP for Dover Gwyn Prosser has said it should lose one.
In a weekly column, Mr Prosser said: "It's glaringly obvious what needs to be done – by dropping one or other of the two Folkestone stops from the time table both Dover and Folkestone would come within the psychologically important "one hour" threshold. After all they are only a two minute train ride apart – and that's using the slow train."
This brought a great deal of anger from Folkestone rail campaigners, who spent several years negotiating for a high speed service, which was originally not intended to come further south than Ashford. What makes it worse it that there was some doubt over the trains reaching Dover at all thanks to the narrow Shakespeare tunnel, but campaigners won an exemption. There were originally going to be sidings put in at the former Folkestone East to store the stock.
Cllr Susan Carey, a high speed rail expert, said: "We always supported Dover being on the high speed network and we have already lost Sandling from the timetable.
"We need Folkestone West because that is where the parking is."
Folkestone Central is the most used station in the town thanks to its location, but because it was built in the days before cars, there is little parking. Commuters from further afield, including Hythe thanks to the absence of Sandling from the timetable, are expected to use the West station with its ample parking.
The marketing fillip provided by a one-hour journey has long been known and the Rail for Folkestone group were in the headlines several years ago with their campaign to get Folkestone such a service.