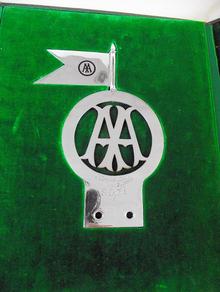 An Edwardian AA car badge that was handed into a Pilgrims Hospices charity shop has been sold on eBay for a staggering £870.
The figure is a record amount for an item sold by the hospices through its online auction site.
The badge, which turned up in a box of items given to the Tenterden shop, was sold to a collector in Sweden.
Bearing the serial number 8024 alongside an engraved signature of Stenson Cooke - who was the first secretary of the Automobile Association when it was formed in 1905 - the badge (pictured right) is finished in chrome and came in a green baize-lined presentation box.
Pilgrims volunteer David Smith, who is based at the charity's eBay department in Chartham, said: "We can be quite certain the badge dates from before the First World War.
"The pennant over the AA symbol denotes it originally belonged to a member of the executive committee, making it a rare find.
"It is 22cms high and has two screw holes in the sides to mount it to a car, though being quite solid, the badge might have weighed down the front end of the vehicle!
"We spoke to an expert at Bonhams about it who said it should sell for quite a high price – and sure enough it did.
"These things don't turn up very often. Plenty of the yellow backed badges from the 1950s and 1960s surface, but not this old."
Pilgrims' eBay shop has been open since 2002 and regularly has more than 700 items for sale on the site.
Run mainly by volunteers, it raises thousands of pounds each year for the charity. For more details, visit www.stores.ebay.co.uk/pilgrims-hospice.