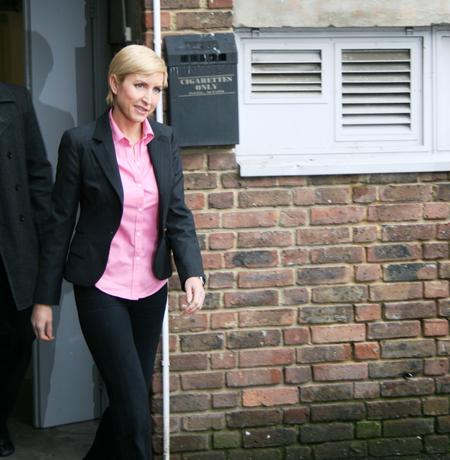 Heather Mills in Ashford on Tuesday. Picture by Thom Morris.
Report by Sam Lennon
It may have been ominous for the ex-Mrs McCartney that one of the reporters chasing her was named Lennon.
I joined the scrum of newsmen who waited for the former wife of ex-Beatle Paul to grab her words and pictures as she left an industrial tribunal at Ashford yesterday.
But not knowing this unkind coincidence Heather Mills was upbeat and happily spoke to the waiting press pack before she was whisked away in her car.
She said: "I think it went really well, I'm pleased. I think I'm going to get some justice."
Miss Mills who had had a bitter divorce from Sir Paul in 2008, was now in town for another battle, this time with an ex-family nanny.
Sara Trumble, nanny to the couple's child Beatrice had taken Miss Mills to the Ashford employment tribunal in County Square for unfair dismissal and sex discrimination.
Miss Mills' arrival in Ashford brought the inevitable media circus and 11 of us reporters and photographers waited at a back door to snatch her words and image.
But her appearance turned out to be a brief and orderly affair with the press complying with her driver's request not to "get in her face."
Miss Mills, wearing a pink blouse and black trousers and jacket spoke briefly to us and smoothly slipped into her silver car.