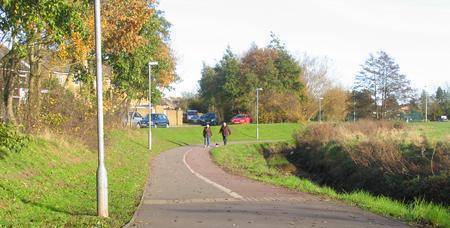 The footpath where the alleged assault took place
by Tim Collins
Police are appealing for witnesses following an assault on a young woman.
A woman aged in her 20s was walking along the footpath that runs alongside the stream next to Maunsell Place, between Newtown and Asda.
The woman was approached by a man, who grabbed her, at around 3.45pm, on Thursday.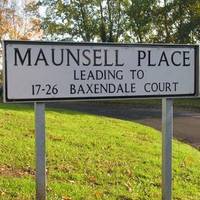 She fought back and was hit on the side of her head, and the offender ran off in the direction of the underpass that runs under the railway line, from Newtown Road to Hunter Avenue, in Willesborough.
The offender is described as in his early 20s, 5ft 10in tall, with dark hair and a dark, neat goatee beard.
He was wearing a black hooded top with the hood up and dark jeans.
Police would like to speak to a group of boys in school uniform who came to the woman's aid, as they may be important witnesses.
Officers would also like to hear from anyone who may have seen the man described above, as there were people walking dogs and pushing children in pushchairs nearby at the time of the assault.
Anyone who witnessed the incident, or has any information, is asked to contact Detective Constable Kane Clifford on 101 quoting crime reference ZY/32457/12/.
Alternatively if you have information but would prefer to remain anonymous call Kent Crimestoppers on 0800 555 111.
Kent Police is reminding people on ways to boost personal safety whilst out and about:
Stick to well lit and busy areas, particularly at night - avoid shortcuts through isolated areas

Avoid travelling alone at night and plan your route before you go

Let others know where you're going and when you'll be home

Look and act confidently - look like you know where you are going, 'walk tall'

Wear bright or reflective clothing so you can be seen