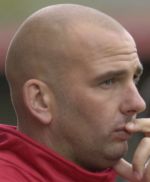 Scott Porter wants his Hythe Town side to take another step to creating "Fortress Reachfields" when they host Crawley Down on Saturday.
Hythe have only lost once at home since the first week of October and Porter said: "Nobody likes coming to Reachfields at the moment and that's what we have got to try to do, to make it a bit like a fortress.
"We've had some good results there lately, the atmosphere is good and the crowd get behind us."
It will be Hythe's first game for three weeks because of the bad weather but Porter believes the break may have one positive spin-off, saying: "In a way it may have done us a bit of good because it just refreshes everyone. It's just one of those things and everyone is in the same boat."
Hythe will be without a game the following Saturday because their scheduled opponents, Croydon Athletic, have folded but secretary Martin Giles has rearranged a league game at Walton & Hersham for Tuesday, February 28.
It means Hythe will only play two matches during February but Porter believes his side's positive mood will enable them to overcome their current fixture problems.
He added: "We are in a good frame of mine. Everyone is raring to start playing again and we just want to pick up where we left off with our good run of form."
However, three Hythe players will again be kicking their heels again this Saturday as skipper Dave Cook, Kieran Byrne and Craig Thompson are all suspended.