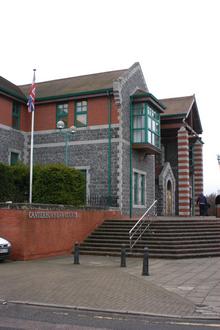 by Paul Hooper
Serial drink-driver Ian Jackson has been given a sobering message from a judge - breach court orders and you end up going to prison.
The 35-year-old farm worker had been expecting to receive yet another suspended sentence for his drunken antics.
But Judge Nigel Van Der Bijl stunned Jackson by sending him immediately to jail for 27 months.
The shocked defendant retorted: "It's a bit strong that... what about the fact I pleaded guilty early?"
But Canterbury Crown Court had been told his latest crimes were his SIXTH for drink driving; NINTH for driving while disqualified and TWELFTH for taking and driving away cars.
The judge told Jackson, of Radnor Bridge Road, Folkestone, he had taken his farm boss's car without permission and driven while he was under the influence of alcohol and when he had been banned from being behind a wheel.
"You did this in breach of two suspended sentences, I am sorry, but I have got to activate them. You have to go to prison."
Ian Foinette, prosecuting, had told how Jackson had been working in December last year when farmer Richard Price was told his Toyota car had been taken and alerted police.
He was stopped by officers 45 minutes later heading along the A20 at Sellindge and asked if he had been drinking. Jackson told them: "I ain't saying nothing!"
A later breath test revealed he was two-and-a-half times over the drink-drive limit - making him in breach of a 12-month suspended prison sentence for breaking in to a house next door and stealing workmen's tools in July last year.
Jackson would later claim he had been drinking with another man on the farm who had armed himself with a knife.
He said he suffered from anxiety and panic attacks and fled because he feared he was going to be hurt.
Jackson was jailed for 15 months after admitting driving with excess alcohol, driving while disqualified, taking and driving away a car and driving without insurance.
The 12 month suspended sentence was added - making a total of 27 months. He was also banned from driving for 18 months.