A bizarre American fad of creating shoe trees has spread to Appledore.
The branches of an oak tree in Park Wood have been covered by around 50 pairs of shoes tied together by their laces, angering parish council chairman Frances Smith.
"I think it is absolutely appalling," she said. "It is vile. This wood is one of the best bluebell woods in Kent.
"Shoe trees become sacred places and this will go viral all over Kent if we don't stop it.
"Some people may think it is fun but it is not something we want to encourage."
Cllr Smith, who owns the land next to Park Wood, discovered Appledore's shoe tree during a walk with her family last week.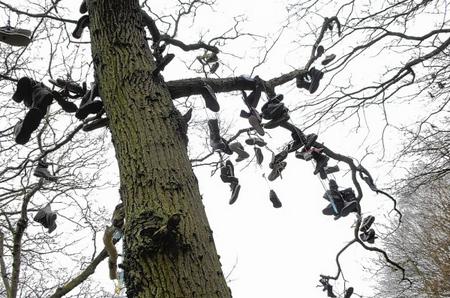 The lowest branch of the oak with shoes on is about 20ft from the ground but some shoes are at least 40ft up.
"I was horrified and am surprised no one has mentioned it to me," she said. "There must be about 50 pairs of shoes there.
"There are trainers and wellingtons and it will become a health hazard if mosquitos start to breed in the wet rubber boots in the summer.
"This may be a fun thing to do, but this is not the place for it. It is an urban thing, not for here.
"Someone has added a CD so it is not just shoes, it is general litter."
The tree is in a beauty spot and under it is is a bench for people to sit and enjoy the views over surrounding countryside.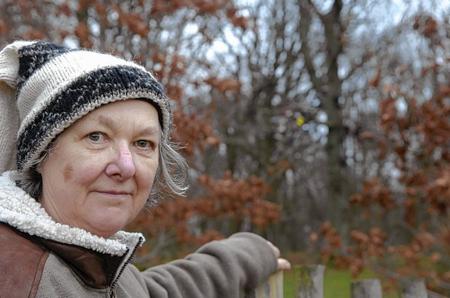 Cllr Smith is concerned that if the number of shoes increase, the weight will cause the branches to break.
She has written to Kent County Council, which owns Park Wood, in a private capacity and plans to raise the matter at the next parish council meeting.
Local county councillor Mike Hill is responsible for country parks and visited Park Wood to see the shoe tree for himself.
"At first I thought it had been done as a work of art, but it is a form of graffiti," he said.
"I understand people's concerns and we will remove the shoes during our routine clearance of the wood once the weather allows us to get in there. This is not something we want to encourage."
---
Shoe trees are an American phenomenon and are usually at the side of main roads.
They start by someone throwing unwanted footwear – normally pairs of trainers – on to a branch and spread from there.
Some trees can be covered by hundreds of pairs, and people inscribe messages on their shoes.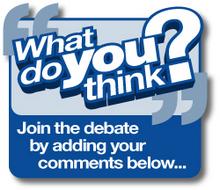 The website roadsideamerica.com has a page dedicated to shoe trees.
It highlights one, in Middlegate, Nevada, which started when a couple threw up a pair of trainers onto a cottonwood tree during a wedding night argument.
They later added their children's shoes and others followed suit until there were hundreds of pairs on the branches.
The tree was said to be the largest shoe tree in the world. It was cut down by vandals on New Year's Eve, 2010.
The word "shoefiti" has been used to describe throwing shoes with the laces tied together on to overhead wires.
Again originating in America, reasons range from celebrating the end of a school year or military posting to marking out gang territory or indicating a drug deal.
What do you think? Join the debate below.