A man battered a friend with his own guitar after an evening's drinking suddenly erupted into violence.
Martin Edwards used musician Mark Fairbrass' Fender bass on him and repeatedly kicked, punched and stamped on him, Canterbury Crown Court heard.
Edwards, 29, of Central Parade, Herne Bay, was jailed for four-and-a-half years.
Judge Heather Norton told Edwards (pictured left) him: "This was a ferocious attack. You subjected him to a sustained attack. With the guitar you smashed him in the head and face."
Ian Foinette, prosecuting, said the two men were friends who had both lived in the same block of flats at St George's Terrace, Herne Bay.
On October 10 2011 - 10 days after Edwards had moved out - Mr Fairbrass, 43, had invited him to his flat for an evening's drinking.
The mood suddenly turned sour and Mr Fairbrass swore at Edwards and told him to to get out and was then suddenly attacked.
Edwards hit him twice, in the head and face, with the guitar and Mr Fairbrass - who made no attempt to defend himself - ended up with his head covered in blood. He also had a broken nose and severe bruising to the head, face and body.
He had swelling around the eye sockets and injuries to his ribs, right arm and lower back and needed hospital treatment. His head needed to be stapled and stitched and he was left with a five to six-inch scar on the head.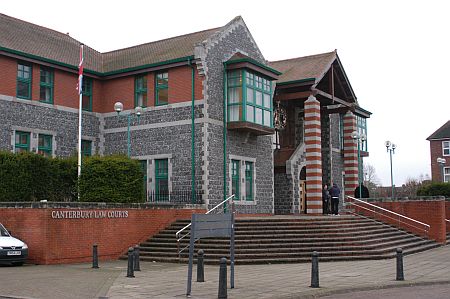 Mr Foinette said: "The defendant repeatedly punched him in the face, and threw him around the room including against a wall and table."
The court heard police were called and Edwards admitted what he had done.
Mr Foinette said while Mr Fairbrass was a guitarist performing in the evening, he had a job as a chef and had lost £560 in pay while off sick after the attack.
"this was a ferocious attack. you subjected him to a sustained attack. with the guitar you smashed him in the head and face" – judge heather norton
He was also left agitated and afraid to go out at night after the experience and suffered nightmares.
Edwards pleaded guilty to wounding with intent and sentencing had been adjourned for psychiatric reports.
Matthew Paul, for Edwards, said it was not clear what exactly had sparked the violence but said: "There is no indication of premeditation. It was spur-of-the-moment intent.
"They had been drinking partners for months, they were friends and Mr Edwards does not understand why this happened although they had both become very drunk. He is now exceedingly apologetic."
Psychiatric reports revealed Edwards had psychological problems and had twice attempted suicide, once by cutting his wrists.
His previous convictions consisted of only one common assault and criminal damage and he was given no more than a conditional discharge.
Judge Norton told Edwards: "What happened to trigger the assault will probably never be fully explained.
"Mr Fairbrass cannot remember and neither are you able to put forward a coherent explanation."