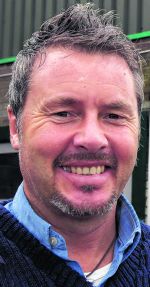 Tony Reynolds has stepped down as Ashford United boss, with Mark Patterson and Paul Chambers taking over as joint-managers at Homelands.
Reynolds (pictured), who was appointed joint manager with Chambers last October, informed chairman Ernie Warren of his decision after Tuesday's 3-2 friendly win over Whitstable.
He said: "I am one of those people who won't do a job if I can't give it 100 per cent and because of my work and family commitments I have decided to step down as manager.
"I hope everyone at the club will understand why I have taken this decision.
"The time is right to let Mark and Paul take over the reins while I concentrate on scouting for new players for the club."
Mr Warren said: "I want to say how grateful we are to Tony for what he has done for the club and it's great that he is going to stay involved.
"Tuesday's excellent result and the crowd of nearly 200, showed that the club is heading in the right direction and we are lucky that, in Mark and Paul, we have two experienced men who can take over the managerial side straight away."
Lee Shearer, one of the most experienced defenders in Kent non-league football, has signed for Ashford United.