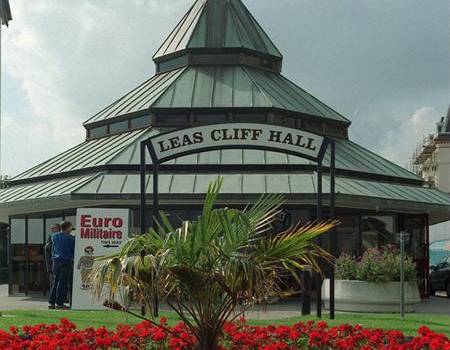 Three people have been arrested after the death of a man said to have been assaulted outside the Saga Christmas party last night.
The man, an employee of the over-50s travel firm, collapsed after being turned away from the Leas Cliff Hall in Folkestone.
He had been restrained and ejected by door staff after trying to re-join the party when he went outside for a cigarette.
Kent Police said three men are being held in connection with the incident.
A spokesman for Saga, the Folkestone-based firm that also specialises in insurance and finance, said the company was "deeply saddened" by the death of a "valued colleague".
The firm, whose headquarters is pictured below, has cancelled its final Christmas party tonight "as a mark of respect".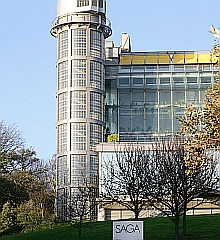 Police officers were called to Leas Cliff Hall at just before 9.50pm.
It had been reported a man, who was asked to leave the Saga party, had been assaulted as he attempted to re-enter the entertainment venue.
Witnesses said he had gone outside for a cigarette when the row broke out and he was refused entry.
The man was restrained and ejected by the door staff, employed for the event.
When police arrived, they found the man "unresponsive".
He was taken by ambulance to the William Harvey Hospital, in Ashford, where he was pronounced dead.
A Kent Police spokesman said: "Officers are currently investigating the circumstances surrounding the death and have arrested three men in connection with this incident."
Paul Green, from Saga, said: "There was a tragic incident involving a member of staff outside the Leas Cliff Hall last night.
"We are greatly saddened by the loss of a valued colleague. Our sincere condolences and prayers are with his family."
Saga has hosted a string of Christmas parties this week for its 3,000 staff members.
The final celebration was due to be held in Hastings tonight.
Mr Green added: "This has now been cancelled as a mark of respect."
A Leas Cliff Hall spokesman said: "We can confirm that an incident took place last night at a private party held by Saga, involving one of their guests and security, who were external contractors they had hired for the event.
"We are deeply saddened by this tragedy and are doing everything to assist the police with their enquiries.
"We offer our heartfelt condolences to the gentleman's family and friends at this difficult time."