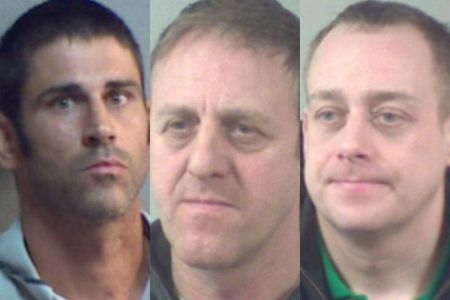 Cannabis farmers Curtis Woolley, Barry Smith, and Marcus Vella
by James Scott
Three men who set up a sophisticated rural cannabis factory have today been jailed for almost 14 years.
Police raided a bungalow surrounded by a complex of 12 outbuildings on three and a half acres of land, at Coldharbour Lane, Hastingleigh near Wye, on January 9 last year.
Officers discovered the detached property, which had been rented by the gang for £4,000 per month, had become the base for a "sophisticated and organised" factory.
They uncovered 447 hydroponic cannabis plants with a street value of more than £100,000.
Marcus Davies, 40, of Burlington Drive, Herne Bay - also known as Marcus Vella - was labelled one of the leaders in the operation and was sentenced to seven years and three months.
Margate builder Barry Smith, 49, of King Street, also said to have played a leading role, was sent to prison for four years.
Curtis Woolley, 36, of Chesney Road, Minister - the factory's gardener and security guard, who had apparently armed himself with a 30cm machete before his arrest - was jailed for 32 months.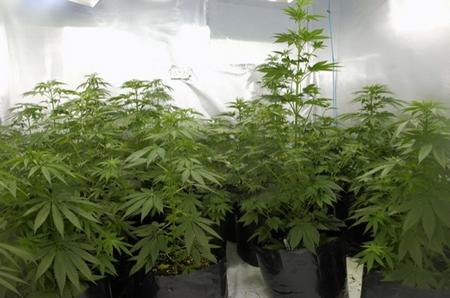 Sentencing them at Canterbury Crown Court today, Judge Heather Norton said: "I find the roles of you Mr Smith, and you Mr Davies, were leading ones.
"The offences were aggravated by the fact that the premises were rented out for this purpose, that children were brought to this property and the electricity was bypassed."
Davies was also sentenced, along with Andrew Rowland, 25, of Marlborough Road, Margate, for handling stolen metal at Kent Metals in Ramsgate.
Rowland was given a 15-month sentence - suspended for two years - and ordered to carry out 200 hours of unpaid work in the community.