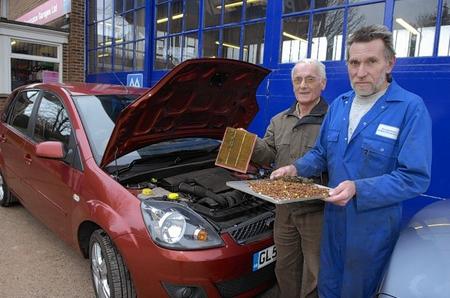 by Samantha Williams
An Ashford mechanic got the shock of his life when he found a huge stash of peanuts stored away inside a car's engine.
Brian Wilkins, 51, was servicing a 2007 red Ford Fiesta when he found the peanuts inside the air filter.
"I am amazed the car was still running," said the dad-of-two from Kennington. "I've been a mechanic my whole life and I've never seen anything like this before."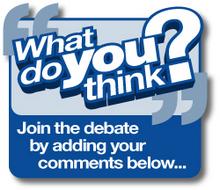 Mr Wilkins, who has worked at the Willesborough and Kennington Garage, in Church Road, for five years, believes only a mouse would have been small enough to fit through the hole and store the peanuts in the filter.
He added: "I can't think of anything else that could have done it - the hole is small and quite restricted."
The car's owner Alan Barling , 78, from Kennington, added: "It's puzzled me. Brian just couldn't believe it. When I arrived to pick the car up he was very excited about it."
Mr Barling, a retired watch and clock repairer, said: "I don't keep nuts in my garage or put them out for the birds, so I have no idea where the mouse would have got the nuts from.
"Nor have I ever seen any droppings about the garage. I don't have a cat, but there are plenty around, you would think that would scare mice away."