A pensioner has criticised the state of the food served to his wife at Ashford's William Harvey Hospital, claiming he wouldn't feed it to an animal.
Tom Wratten, 72, of Brabourne, complained to the hospital's food supplier Serco Group Plc, saying his wife Jean was served inedible food during her three-day stay at the Harvey.
Mrs Wratten, 75, was admitted to the William Harvey Hospital to have an ovarian cyst removed on Monday, December 17.
However for the two days she was in hospital she said the food was not up to scratch.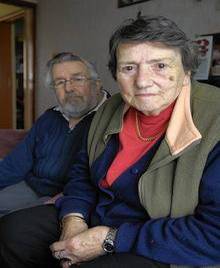 Mr Wratten (pictured left, with Mrs Wratten) said: "People in hospital need to be nourished, not punished.
"On the Monday night she was offered the choice of a sardine and tomato sandwich or a ham sandwich.
"Jean isn't keen on fish so opted for the ham, but it was really cheap and nasty. Tesco Value ham would have been better."
On the second night, Mrs Wratten, who was recovering from her operation on Kennington Ward, had fish pie, but was again left disappointed, claiming the fish was very hard.
"i wouldn't give the food that was served to my wife to an animal..." – tom wratten
Mr Wratten added: "I can't complain about the treatment my wife received at the hospital, that was brilliant.
"However I wouldn't give the food that was served to my wife to an animal."
Serco took over the catering at the William Harvey in July, signing a seven-year contract.
Mr Wratten complained to the catering manager at the hospital.
He said: "The only way to make an actual complaint is to go to the canteen. I know two other women complained about the food while I was there.
"The manager told me they had problems with timings on Kennington Ward. He was really nice, it's just a shame the food wasn't."
Beverley Vaghelacorr, Serco's contract director for East Kent, said: "We are sorry that this patient did not find the food satisfactory.
"This was the only complaint we have received but we are disappointed we failed to meet expectations.
"We are in the process of introducing a new food service across East Kent Hospitals NHS University Foundation Trust and the reaction to this new service has been overwhelmingly positive."
What do you think about the food at the William Harvey? Tell us below.