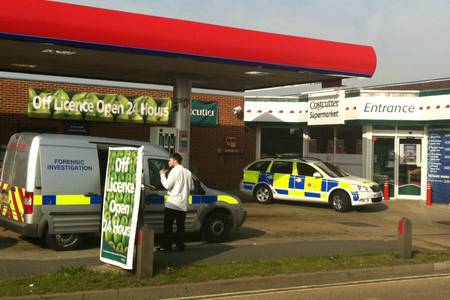 A woman has been charged with a string of offences following an attempted robbery on the Murco garage in Brookfield Road, South Ashford.
Anna Chambers, 29, Manorfield in Singleton, Ashford, was arrested following the incident which took place at around 5am on Thursday.
Witnesses reported police cars, forensics teams and ambulances at the
scene in Brookfield Road, which was cordoned off until around the
morning rush-hour.
Ms Chambers was taken into custody and questioned by police following the robbery, in which staff were threatened with a knife.
She was subsequently charged with four alleged offences: possession of
a knife in a public place; robbery; affray and possessing an offensive
weapon - a broken glass bottle.
She is due to appear before Folkestone Magistrates today (Friday).
It is not the first time the Murco garage has been targeted by raiders.
In September 2011, two men got away with several hundred pounds in an
early-morning robbery.