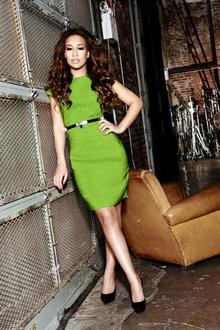 Former X Factor finalist Rebecca Ferguson has been announced as the star to turn on this year's Christmas lights at the Ashford Designer Outlet.
The singing star, who has sold more than 750,000 albums to date, will take to the stage to perform songs from her latest album Heaven on Thursday, November 22.
Shoppers and residents are invited to attend the Christmas celebrations from 5.30pm at the shopping centre in Kimberley Way, where nearly a quarter of a million lights will be turned on by Miss Ferguson.
Other stars to perform on the night include Britain's got talent finalist Ryan O'Shaughnessy; British girl band Parade; boy band Eli Prime who featured on this year's X-Factor; female singer NY and Kent based singer Ben Mills.
Father Christmas and his team of reindeer will also be joining in the celebrations on the night.
Rebecca Ferguson said: "This is one of my favourite times of year and with such an amazing event planned, I'm really looking forward to performing for the hundreds of shoppers joining the festivities at the centre."
Last year, thousands of people turned up to watch singer and reality TV star Peter Andre switch on the lights at the outlet centre.
To find out more about the Designer Outlet, click here.