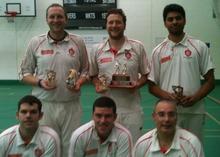 by Kevin Redsull
Betteshanger have won the county title in the ECB 6-a-side National Club Championship for the second time in four years.
And in Sunday's final at the Kent Cricket Academy in Canterbury, the Dover League winners claimed the prize scalp of Canterbury, who were 2011 national champions.
After beating Stone-in-Oxney in the quarter-finals and Upchurch in the last four, Bettes were looking for revenge over Canterbury in the final, with captain Joffy Towe saying: "We've had regular battles with Canterbury in this competition over the years and, apart from when we won the title in 2010, they've nearly always come out on top."
Towe decided to put Canterbury in after winning the toss and his four-man bowling attack of Andy McNicholas, Mike McNicholas, Arslan Sahi and Jamie Towe vindicated his decision as Canterbury were bowled out for 56.
But the Canterbury bowling attack proved to be equally fired up and although Andy McNicholas (20) added 36 for the second wicket with Bob Spence (12), Bettes started the last of their 12 overs still needing 10 to win.
Mike McNicholas was then run-out off the first ball as Bettes added a single but then man-of-the-match Jamie Towe (16 not out) hit a six and a two to level the scores.
With Joffy having joined his brother at the crease, the Bettes skipper knew that if he survived the final three balls his side would take the title by virtue of having lost less wickets.
Joffy duly blocked out the next two balls before hitting the final ball of the match for four to secure a memorable win.
Joffy said: "To keep the national champions down to 56 shows how well we bowled in the final. Our bowling and fielding was superb in all three games. We worked out afterwards that there was something like 10 run out in the 18 wickets that we took."
Betteshanger will now represent Kent in the regional qualifying game against the Sussex champions, Three Bridges, at Portslade, near Brighton on February 17.