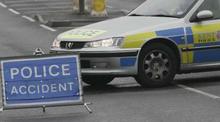 A 12-year-old boy has been taken to hospital this morning after being hit by a car during rush-hour traffic.
The youngster suffered serious head injuries in the crash in Wingham at about 8am.
Paramedics went to the scene, on the A257 Canterbury Road, as traffic built up near the Casino petrol station.
Cashier Alan Kumar said he was serving a customer when the boy was struck.
He said: "Someone came running in and said to call an ambulance because a boy had been hit by car.
"I didn't see it happen but could see him lying in the road. I called 999 and the operator wanted to know if he was still breathing.
"I was in the office and didn't know, so they took the mobile number of someone else who was with the boy.
"The doctors arrived and must have been here about an hour before they took him off.
"I tried to help with teas, coffees and water for all the medical parties."
The boy was taken to a London hospital by land. The road was re-opened at 9.30am.