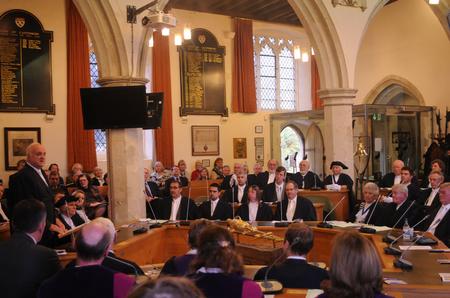 by Jamie Bullen
Sparks flew last night as Canterbury City Council approved its latest budget at a fiery meeting.
The ruling Tory party voted through all proposals and dismissed amendments tabled by opposition parties.
They set the new revenue budget at £20,051,000 for day-to-day spending, with £3,831,650 put aside for capital projects.
The proposals include a hike in councillors' allowances, a slash in funding for voluntary organisations and a 1.92% rise in council tax – reduced from the 1.99% initially planned.
There were outbursts from all sides of the chamber as each party set out its priorities for next year at Canterbury's Guildhall.
At one point in the proceedings, Lord Mayor Cllr Robert Waters called for respect to be shown to all members after repeated interruptions and clashes.
Leader John Gilbey (left) warned the council may have to make unpopular decisions in the years ahead, but added key services will be protected.
Lib Dem councillor James Flanagan, speaking on behalf of leader Alex Perkins, who was absent due to family reasons, saw his party's five amendments rejected.
It had wanted to cut councillors' allowances by 10%, maintain funding for voluntary groups and set up a fund for sustainable travel to pay for cycle lanes and 20mph speed zones.
Labour councillor Phil Cartwright also tabled four changes, including asking for a £150,000 grant earmarked for the Marlowe Theatre to be switched to an interest-free loan.
He said the district could not carry the burden brought on by a shortfall in the theatre's fundraising and said there was no guarantee the finances would become sustainable.
He also asked for £200,000 to install renewable energy systems in council houses and new-builds and for member's allowances to be separated from the overall wage bill.
They were all rejected.
For full reaction to the budget and what it means for people in the district see next Thursday's Kentish Gazette.